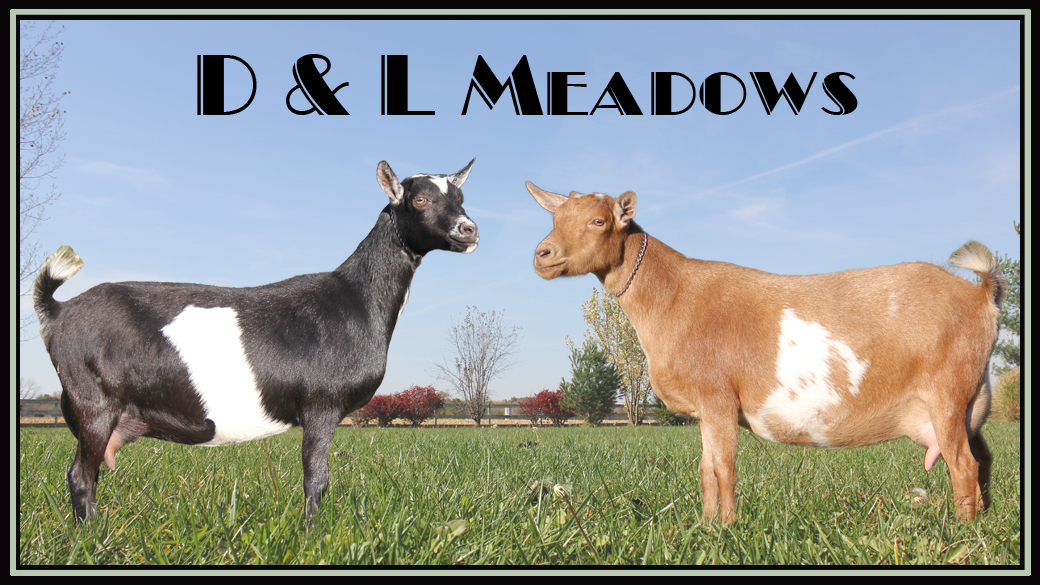 Tehillah's dam Little Tots Estate Allamanda *D was the fourth top milker for the one day test with the AGS. See page 8 of the AGS Top ten booklet for 2012 PDF document.
In 2013, Tehillah 's dam was the number 8 for the AR 305 days for milk volume (1079 lbs) and number 9 for butter fat and
Tehillah obtain her milking star with the one day milking test with ADGA and AGS. Since her dam is a 3*M star goat, she is now a 4*M star goat.
Tehillah is an AR star doe with ADGA and AGS. In 2015-2016 season, Tehillah took the fifth place on butterfat production with AGS and she took the 10th place for the protein production. In the 2016-2017 season, she placed 10th for butterfat with AGS.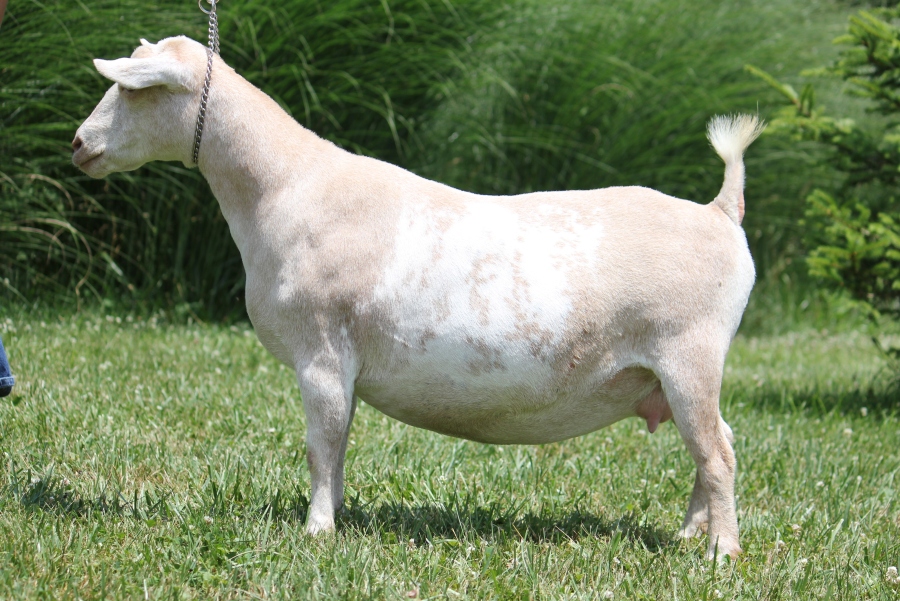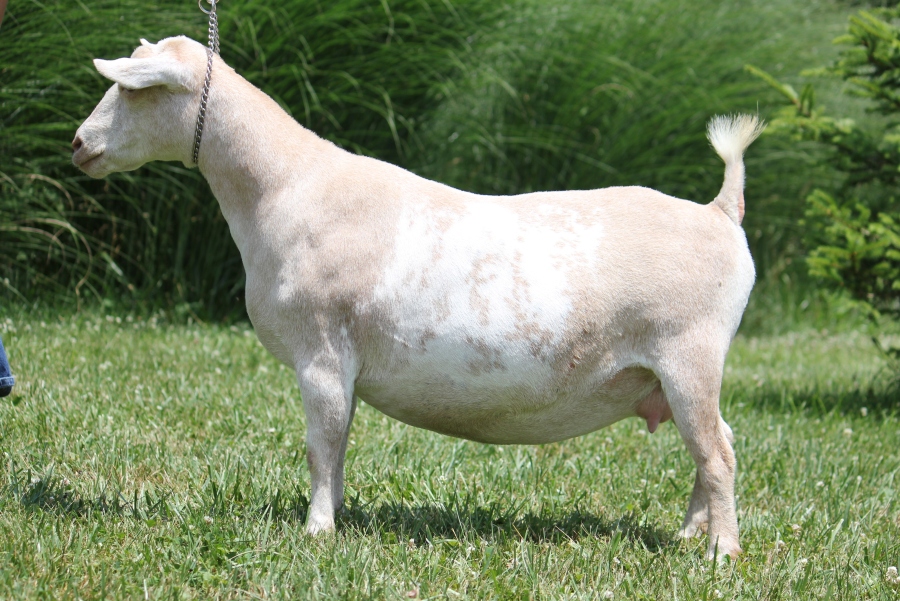 Back to top
Sinai Thunder AG Tehillah 4*M AR, 2*D AR
Sire: Olson Acres RC Augustine +*B +*S
Sire: Lost Valley KW Raising Cain ++B *S
Sire: Gay-Mor's RA Kingwood ++*S
Sire: Stonewall's Raising Arizona ++S
Sire: Stonewall's Longstreet
Dam: Goodwood Penny Lane 5*D
Dam: ARMCH Goodwood Trillium 1*D AR
Sire: Goodwood Kauri Tree ++*S
Dam: Goodwood Killeen
Dam: ARMCH Lost Valley BDC Serabi 3*M AR, 4*D AR
Sire: Twin Creeks BW Browndirtcowboy *S
Sire: MCH Twin Creeks BH Bay Watch ++B ++*S FS84.8
Dam: GCH MCH Gay-Mor's JJU Nonpareil 1*M, 4*D EEEE92
Dam: Lost Valley LA Toriaza 2*M, 3*D
Sire: Gay-Mor's JJU Laredo
Dam: Hill Country's Shatarr 1*M, 2*D
Dam: GCH MCH Olson Acres Monica 1*M, 1*D
Sire: Irish Whisper Tom Cruz
Sire: Piddlin Acres Suzuki Sidekick +*S
Sire: MCH Twin Creeks BH Bay Watch ++B ++*S FS84.8
Dam: GCH MCH Twin Creeks BH Mariri's Zinnia 1*M, 4*D
Dam: MK Elpaal VAS
Sire: Velvet Acres Chitty's Scandal
Dam: MK Eladah DC
Dam: Whispering Woods Vera Miles
Sire: CH 4 Fun Gay-Mor Lemon Pot-O Gold *S VVE FS87
Sire: 4 Fun Val's Twist of Lemon *S
Dam: ARMCH Gay-Mor's Magic Naiad 5*D
Dam: SG Gay-Mor's Blue Looney Meg Ryan EEEE91
Sire: Gay-Mor's T Blue Looneytoon's ++*S
Dam: Munchranch East Nellie Backata 1*D AR
Dam: SG Little Tots Estate Allamanda 3*M AR, 1*D AR EEEE91
Sire: Caesar's Villa LV Eric +B *S FS87.4
Sire: Caesar's Villa Felicia's Levi *S
Sire: ARMCH Caesar's Villa CBS Stetson +B +*S FS86.3
Sire: Stonewall's Midnight Cowboy ++S
Dam: Goodwood Mindy 1*D
Dam: Inavale Felicia 1*D
Sire: MCH Inavale RW Winchester
Dam: Joysprings Fantasia
Dam: Caesar's Villa Pons Ebony 7*D
Sire: Caesar's Villa CBS Poncho *S
Sire: Stonewall's Midnight Cowboy ++S
Dam: Mtn Retreat's Glow Bug 2*D
Dam: Stonewall's Golden Cowgirl 6*D AR
Sire: Stonewall's Jumping Jack Flash
Dam: Goodwood Tinkerbelle 5*D
Dam: SGCH SM3Pines Juren's Sugar Glider 2*D VEEE90
Sire: Creek Road Envoy +B
Sire: Willow Creek Instant Replay +S
Sire: Willow Creek Treason
Dam: Goodwood Milkweed 1*D
Dam: Twin Creeks LS Pixie Fern
Sire: HBF Luckey Strike +S
Dam: MCH Raha Acres Twink's Pixie 1*D
Dam: ARMCH Gay-Mor Berry's Jurrassic 1*M, 2*D AR
Sire: Goodwood Lingonberry ++*S
Sire: Goodwood Lotto Money +*S
Dam: MCH Goodwood Tahoka 3*D
Dam: ARMCH Unicorn Farm Parnell's Panda 1*D AR
Sire: ARMCH Unicorn Farm Tomus Parnell +*S
Dam: Unicorn Farm Nenik Panda
Back to top
305 DHI Totals
Milk Volume
305 days
Fat
Protein
2014-2015
769 lbs
61 lbs
36 lbs
2015-2016
975 lbs
81 lbs
45 lbs
2016-2017
863 lbs
69 lbs
38 lbs
Back to top
DHI Records
DHI 2014-2015
Date
Days In Milk
Lbs Milk
Fat %
Protein %
Somatic Cell Count
x 1000
3/8/2014
25
2.7
7.5
4.4
87
4/19/2014
67
3.3
6.2
4.2
41
5/10/2014
88
3.3
8.0
4.0
13
6/4/2014
113
2.4
6.8
4.3
22
7/9/2014
148
2.3
7.4
4.4
17
8/2/2014
172
2.4
7.8
4.7
13
9/6/2014
207
2.6
8.0
4.7
38
10/11/2014
242
2.5
9.2
5.2
27
11/13/2014
275
2.0
8.8
5.2
29
12/13/2014
305
1.7
9.9
5.5
115
Total Milk
769.0 Lbs
Fat
61.0 Lbs
Protein
36.0 Lbs
DHI 2015-2016
Date
Days In Milk
Lbs Milk
Fat %
Protein %
Somatic Cell Count
x 1000
4/2/2015
13
3.4
9.4
4.5
31
5/1/2015
42
4.8
7.0
4.1
38
6/6/2015
78
4.0
8.4
4.2
62
7/11/2015
113
3.8
7.5
4.4
54
8/15/2015
148
3.8
6.8
4.5
100
9/12/2015
176
2.6
8.1
5.1
174
10/24/2015
218
2.3
9.8
5.5
13
11/28/2015
253
2.2
8.8
5.1
33
12/26/2015
281
2.4
8.8
4.8
100
1/29/2016
315
1.9
8.3
5.3
35
Total Milk
995.0 Lbs
Fat
82.0 Lbs
Protein
46.0 Lbs
DHI 2016-2017
Date
Days In Milk
Lbs Milk
Fat %
Protein %
Somatic Cell Count
x 1000
6/27/2016
58
3.3
7.6
3.9
76
7/23/2016
84
3.1
8.4
4.1
65
8/27/2016
119
3.3
8.3
4.3
33
9/30/2016
153
3.3
7.2
4.4
13
10/29/2016
182
2.4
7.4
4.9
33
11/25/2016
209
2.4
8.6
5.2
19
1/7/2017
252
2.2
7.8
5.1
13
2/18/2017
294
2.4
8.9
4.9
123
3/17/2017
321
2.2
9.9
5.3
54
Total Milk
899.0 Lbs
Fat
73.0 Lbs
Protein
40.0 Lbs
Back to top
Back to top
Kidding History
Freshening Date
Sire
Doelings
Names
Bucklings
Names
02/06/2014
Sinai Thunder T Valentine Love +*B +*S
1
D and L Meadows Taffy 5*M 3*D AR
2
D and L Meadows Tucker
D and L Meadows Teddy
03/21/2015
Sinai Thunder T Valentine Love +*B +*S
2
D and L Meadows VT Sunshine 5*M 3*D AR
1
D and L Meadows VT Aleynu *B *S
05/01/2016
Wood Bridge Farm Smores +B +S
0
1
D and L Meadows ST Hoss *B *S
Back to top
Progeny
| | |
| --- | --- |
| D and L Meadows Taffy 5*M 3*D AR | D and L Meadows VT Sunshine 5*M 3*D AR |
Last update: 10/17/2020