Betzy

Betzy is in her 6th freshening. Betzy obtain her milking star 1*M and 1*D with ADGA and AGS for the one day milk test as well for the Advanced Registry (AR). Betzy got special recognition for her lowest somatic cell count. During her second freshening, her milk peak 6.5 lbs of milk.
Betzy placed 10th for protein in 2015-2016. with AGS
She placed 9th for butterfat with 71 lbs with AGS in 2016-2017.
DOB: 3/23/2012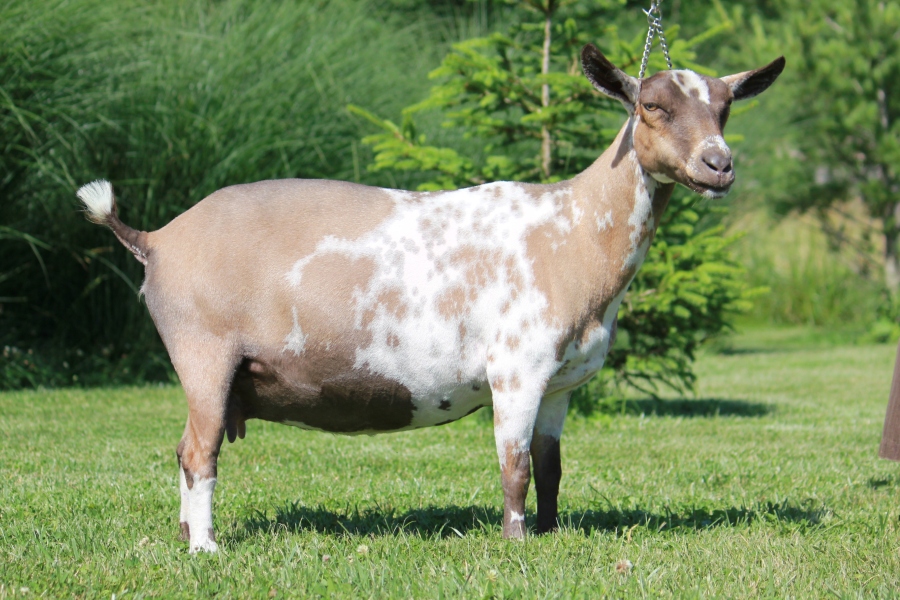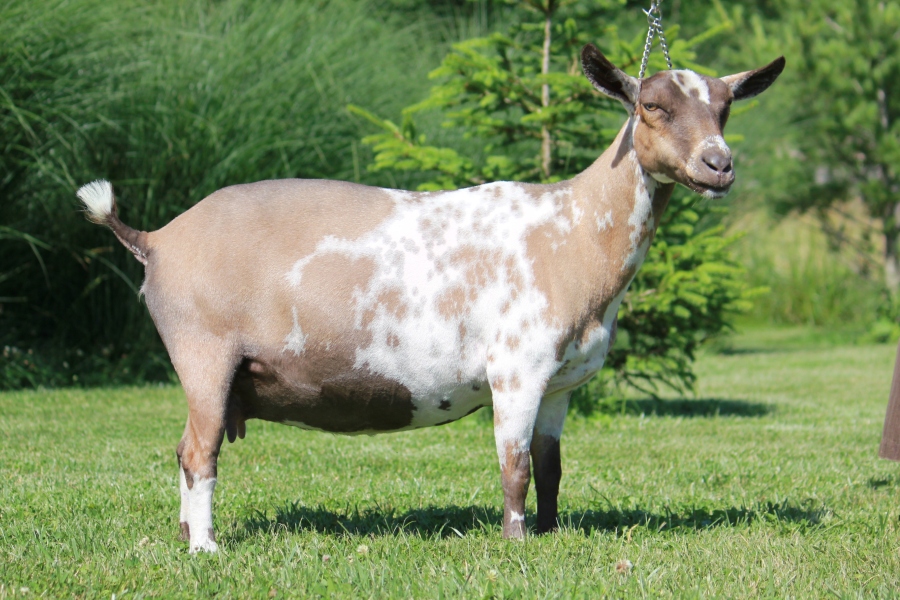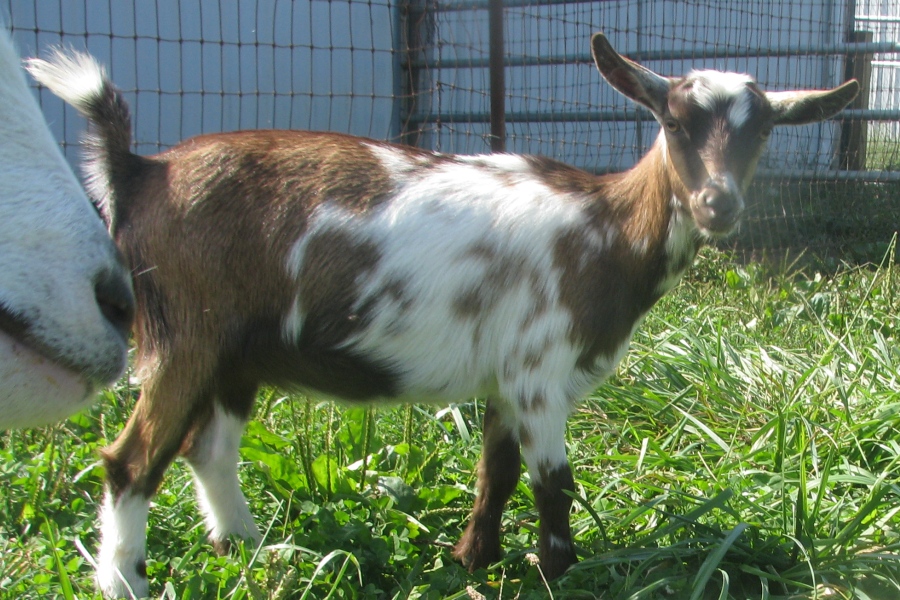 D and L Meadows Betzy 1*M AR,1*D AR
Sire: Wood Bridge Farm Smores +B,+S
Sire: Atwood Acres LC Harrison
Sire: CH Atwood Acres FT Cyclone VEV FS88
Sire: CH Twin Creeks BW Fathom This *B,*S VVE FS88
Sire: MCH Twin Creeks BH Bay Watch ++B,++*S FS84.8
Dam: GCH, MCH Gay-Mor's JJU Nonpareil 1*M,4*D EEEE FS92
Dam: CH Caesar's Villa STS Serendipity
Sire: ARMCH Caesar's Villa CBS Stetson +B,+*S FS86.3
Dam: Stonewall's Serena 1*D AR
Dam: SGCH Rebell Yell Liberty VEEV FS90
Sire: Caesar's Villa FL Fable *S
Sire: Caesar's Villa PL Golden Flame *S
Dam: ARMCH Caesar's Villa PN Fabulous 2*D AR
Dam: Caesar's Villa CBS Cheyene 1*D
Sire: Stonewall's Midnight Cowboy ++S
Dam: Columbus Zoo Blaze
Dam: CH Wood Bridge Farm Lil Chinadoll EEEE FS92
Sire: Tx Twincreeks WOC Visa Gold *S FS84.9
Sire: Pecan Hollow Wind of Change *S +VE FS86
Sire: Rosasharn Tom's Bit-A-Willy *B
Dam: CH Twin Creeks WB Meadowlark 2*D
Dam: GCH, MCH Twin Creeks ARG Mithril Silver 2*M,2*D VVEV FS89
Sire: Twin Creeks BW Aragorn *S
Dam: MCH HBF LS Darlin Clementine 1*M,1*D VEEE FS90
Dam: Wood Bridge Farm What A Doll
Sire: GCH Rosasharn UMT Pippin +*B VVE FS86
Sire: SG, ARMCH Rosashrn's Under My Thumb ++*B,+*S
Dam: RGCH Rosasharn's TL Arwen 2*M AR,8*D AR VEEE FS90
Dam: Wood Bridge Farm Vangelina
Sire: Buttin'Heads Sonic Hero FS87.5
Dam: Wood Bridge Farm Tattiana
Dam: D and L Meadows Boots
Sire: Hoosier Heart S Montgomery +B
Sire: Little Tot's Estate Stewartia
Sire: GCH Little Tot's Estate Tsuga ++*B VVE FS88
Sire: Creek Road Envoy +B
Dam: Woodhaven Farms Cowgirl 1*M ++E+ FS83
Dam: Little Tot's Estate Lysimachia
Sire:
Dam
Dam: Piddlin Acres Misty Blue
Sire: Piddlin Acres Blue Thunder ++*S
Sire: MCH Gladys Porter Zoo Ali's Tex +S
Dam: Woodhaven Farms Moon Dancer 1*D
Dam: Piddlin Acres Tic Tac Doe
Sire: MCH Gladys Porter Zoo Ali's Tex +S
Dam: Willow Creek Tin Lizzie
Dam: Crossplain's Rosie
Sire: Double E Ranch Ezrah
Sire: Hoosier Heart Mini Me
Sire:
Dam
Dam: Gitana Winged Heart
Sire: Hoosier Heart Willie
Dam: Hoosier Heart Leanne
Dam: Cornerstone Farm Noel
Sire: Cornerstone Farm Zion
Sire: Piddlin Acres Thunders Mozart
Dam: Bean's Pod Malimar Cookie
Dam: Cornerstone Farm Meraiah 2*D
Sire: CornerStone Farm Lazarus
Dam: CornerStone Farm Shekinah Glory 1*D
DHI 2014-2015
Date
Days In Milk
Lbs Milk
Fat %
Protein %
3/8/2014
25
3.6
6.9
4.4
4/19/2014
67
3.0
6.1
4.4
5/10/2014
88
3.1
6.8
4.5
6/4/2014
113
2.9
5.5
4.5
7/9/2014
148
2.7
6.3
4.6
8/2/2014
172
2.9
6.5
4.8
9/6/2014
207
2.4
7.3
4.9
10/11/2014
242
2.3
9.8
5.9
11/13/2014
275
1.6
9.9
6.5
12/13/2014
305
1.6
9.2
5.7
Total Milk
806.0 Lbs
Fat
58.0 Lbs
DHI 2015-2016
Date
Days In Milk
Lbs Milk
Fat %
Protein %
Somatic Cell Count
x 1000
5/1/2015
22
6.5
5.0
4.2
23
6/6/2015
58
3.9
8.3
3.9
31
7/11/2015
93
3.6
6.9
4.2
41
8/15/2015
128
3.4
6.6
4.4
15
9/12/2015
156
2.7
8.0
4.5
214
10/24/2015
198
2.6
8.6
5.2
13
11/28/2015
233
2.4
8.4
5.0
54
12/26/2015
261
2.0
8.9
5.1
429
1/29/2016
295
1.6
8.0
5.3
66
Total Milk
972.0 Lbs
Fat
69.0 Lbs
Protein
44.0 Lbs
DHI 2016-2017
Date
Days In Milk
Lbs Milk
Fat %
Protein %
Somatic Cell Count
x 1000
5/21/2016
8
3.7
7.9
5.0
19
6/27/2016
45
4.5
6.8
3.7
22
7/23/2016
71
3.5
7.1
3.6
47
8/27/2016
106
3.5
7.8
4.1
20
9/30/2016
140
3.2
7.8
4.8
13
10/29/2016
169
2.9
7.7
5.0
23
11/25/2016
196
2.6
9.2
5.6
17
1/7/2017
239
2.0
9.0
5.6
17
2/18/2017
281
1.9
9.0
5.0
62
3/12/2017
303
1.9
9.0
5.0
62
Total Milk
909.0 Lbs
Fat
71.0 Lbs
Protein
41.0 Lbs
DHI 2017-2018
Date
Days In Milk
Lbs Milk
Fat %
Protein %
Somatic Cell Count
x 1000
6/28/2017
22
5.0
5.9
4.0
985
7/22/2017
46
4.1
5.5
3.6
303
9/15/2017
101
3.4
6.8
4.2
325
9/15/2017
101
3.4
6.8
4.2
325
10/26/2017
137
3.0
6.5
4.7
264
11/22/2017
169
2.8
7.5
5.3
325
12/15/2017
192
2.3
7.2
5.2
264
01/27/2018
235
1.8
7.4
5.4
152
03/03/2018
270
1.6
6.7
5.2
528
4/10/2018
308
1.3
7.4
5.4
696
Total Milk
878.0 Lbs
Fat
57.0 Lbs
Protein
40.0 Lbs
DHI 2018-2019
Date
Days In Milk
Lbs Milk
Fat %
Protein %
Somatic Cell Count
x 1000
9/25/2018
15
2.4
8.2
3.7
15
11/3/2018
54
4.1
6.4
4.4
33
12/7/2018
88
2.9
6.8
4.7
13
01/04/2019
116
3.4
6.0
4.6
18
02/01/2019
158
3.1
6.8
4.5
27
03/01/2019
172
2.4
7.1
4.8
13
4/3/2019
205
2.4
7.9
4.9
54
5/10/2019
242
2.0
6.4
4.7
17
6/7/2019
270
1.9
6.8
4.6
100
7/11/2019
304
2.0
6.5
4.7
76
8/14/2019
338
1.9
7.6
4.6
44
9/4/2019
359
1.5
7.4
5.2
57
Total Milk
873.0 Lbs
Fat
61.0 Lbs
Protein
40.0 Lbs
Last update: Saturday, September 14, 2019