Blanchette

Blanchette was named after the goat in the story of "Three Months Under the Snow: The Journal of a Young Inhabitant of the Jura" by J. Jacques Porchat.
Blanchette is not perfect white, but close enough. Yes she does have a brown tip on her tail.
Blanchette is in her first lactation.
DOB: 6/1/2015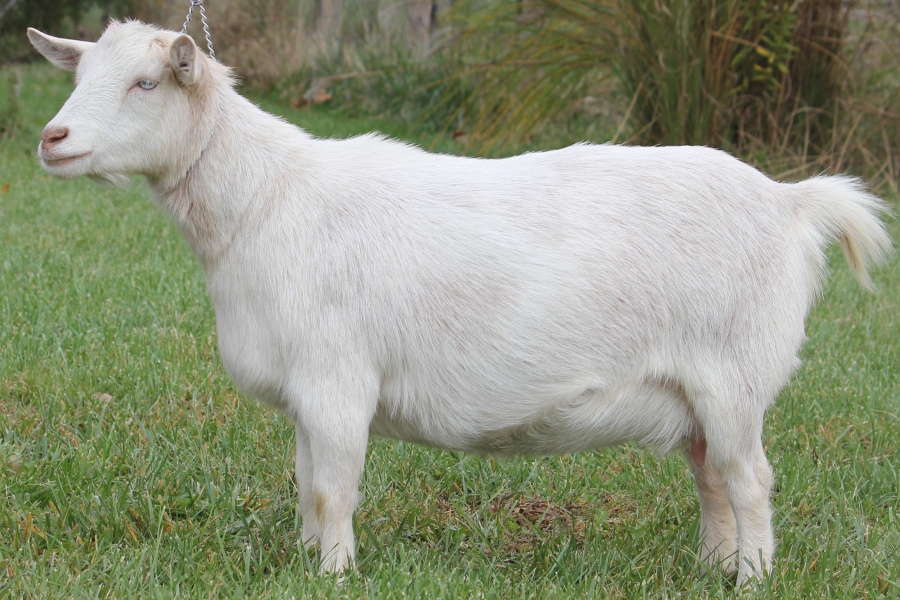 D and L Meadows CS Blanchette
Sire: D and L Meadows Charlie *B,*S
Sire: Sinai Thunder Nab Hosanna *S
Sire: AOF Mardi's Nabucco *S
Sire: Lost Valley Mardi Gras *S
Sire: CH, MCH Hill Country's BB Zydeco
Dam: GCH, GCH Lost Valley KW Shiraz 2*M AR,3*D
Dam: ARMCH Antiquity Oaks Carmen 1*M AR,1*D AR
Sire: Antiquity Oaks John Adams
Dam: Dream Acres Flash Dancer
Dam: CapraKoza AG CousCous 1*M AR,1*D AR +V+V FS84
Sire: Olson Acres RC Augustine +*B,+*S
Sire: Lost Valley KW Raising Cain ++B,*S
Dam: GCH, MCH Olson Acres Monica 1*M,1*D
Dam: Little Tots Estate Juncus
Sire: PromisedLand CP Zippo *S
Dam: Brush Creek Faithful 1*M AVE+ FS83
Dam: Sinai Thunder C Gold and Myrrh 3*M AR,3*D AR
Sire: Muddy Creek BC Caribou +B,+S +EV FS85
Sire: Rosasharn UP Bronze Copper *B,*S +EV FS85
Sire: Rosasharn CH Uproar ++*B VEE FS87
Dam: SG Rosasharn's TL Mariposa 3*M AR,4*D AR EEE+ FS88
Dam: Kids Corral PT GingerbreadGirl
Sire: Kids Corral Pat's Tenor
Dam: Doe-Sy-Doe's Ginger
Dam: Helmstead Minis TM Fergie 2*M AR,2*D AR VEV+ FS87
Sire: Thunderhill A Merlot
Sire: Meadow Blue Farm Ace
Dam: Anbonjo HRL Painted Daisy
Dam: Little Tot's Estate Kirby 1*M,1*D
Sire: GCH Buttin'Heads Red Branch Legend +*B,*S
Dam: Little Tot's Estate Platycodon
Dam: D and L Meadows Smarty 2*M AR,1*D AR
Sire: Hoosier Heart S Montgomery +B
Sire: Little Tot's Estate Stewartia
Sire: GCH Little Tot's Estate Tsuga ++*B VVE FS88
Sire: Creek Road Envoy +B
Dam: Woodhaven Farms Cowgirl 1*M ++E+ FS83
Dam: Little Tot's Estate Lysimachia
Sire:
Dam
Dam: Piddlin Acres Misty Blue
Sire: Piddlin Acres Blue Thunder ++*S
Sire: MCH Gladys Porter Zoo Ali's Tex +S
Dam: Woodhaven Farms Moon Dancer 1*D
Dam: Piddlin Acres Tic Tac Doe
Sire: MCH Gladys Porter Zoo Ali's Tex +S
Dam: Willow Creek Tin Lizzie
Dam: Wood Bridge Farm Sprinkles 1*M
Sire: Gay-Mor Looney's Moody Blues *S
Sire: Gay-Mor's T Blue Looneytoon's ++*S
Sire: Piddlin Acres Blue Thunder ++*S
Dam: Piddlin Acres Alley Oops 1*D AR
Dam: Woodhaven Farm Blu Laurenbacal 2*D
Sire: Woodhaven Farms Bugatti
Dam: Munchranch East Nellie Backata 1*D AR
Dam: Buttin'Heads Zip Your Lip
Sire: Twin Creeks BW Zip Drive *S FS86.8
Sire: MCH Twin Creeks BH Bay Watch ++B,++*S FS84.8
Dam: Goodwood Zippy Mariri 3*D
Dam: Buttin'Heads Apologia
Sire: Buttin'Heads Polska Kielbasea +*S
Dam: ARMCH Buttin'Heads Camisole 2*D AR
DHI 2017-2018
Date
Days In Milk
Lbs Milk
Fat %
Protein %
Somatic Cell Count
x 1000
4/29/2017
22
2.4
5.3
4.3
38
5/31/2017
54
1.8
5.8
4.1
81
6/28/2017
82
2.0
6.5
4.1
50
7/22/2017
106
2.0
6.1
4.4
174
9/15/2017
161
1.5
6.8
4.8
57
10/26/2017
197
1.8
6.2
4.6
44
11/22/2017
229
1.8
6.1
4.9
93
12/15/2017
252
1.3
7.8
5.2
400
01/27/2018
295
1.6
7.4
4.9
66
Total Milk
524.0 Lbs
Fat
33.0 Lbs
Protein
24.0 Lbs
Last update: Saturday, March 10, 2018