Blanchette

Blanchette was named after the goat in the story of "Three Months Under the Snow: The Journal of a Young Inhabitant of the Jura" by J. Jacques Porchat.
Blanchette is not perfect white, but close enough.
Blanchette is in her second lactation. She did receive her milk star for production.
DOB: 6/1/2015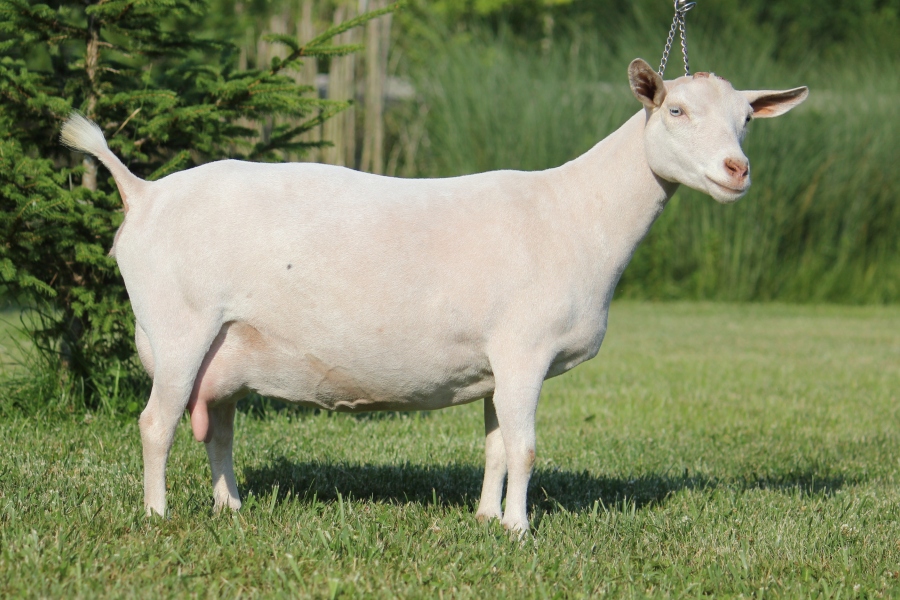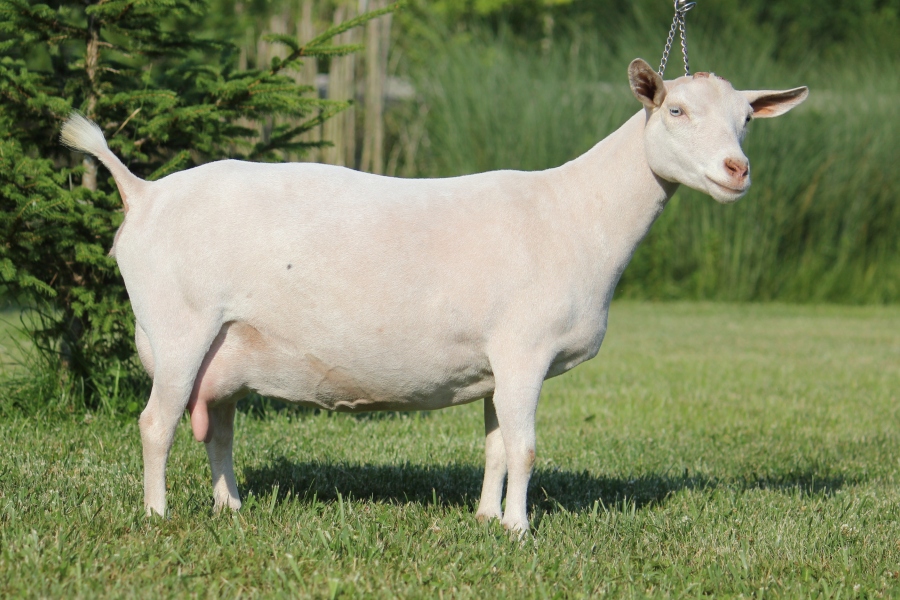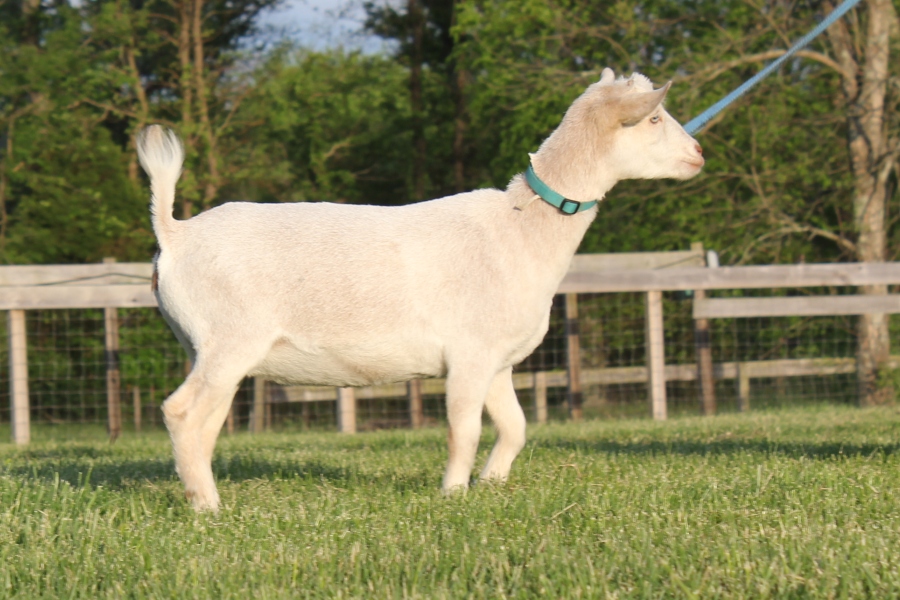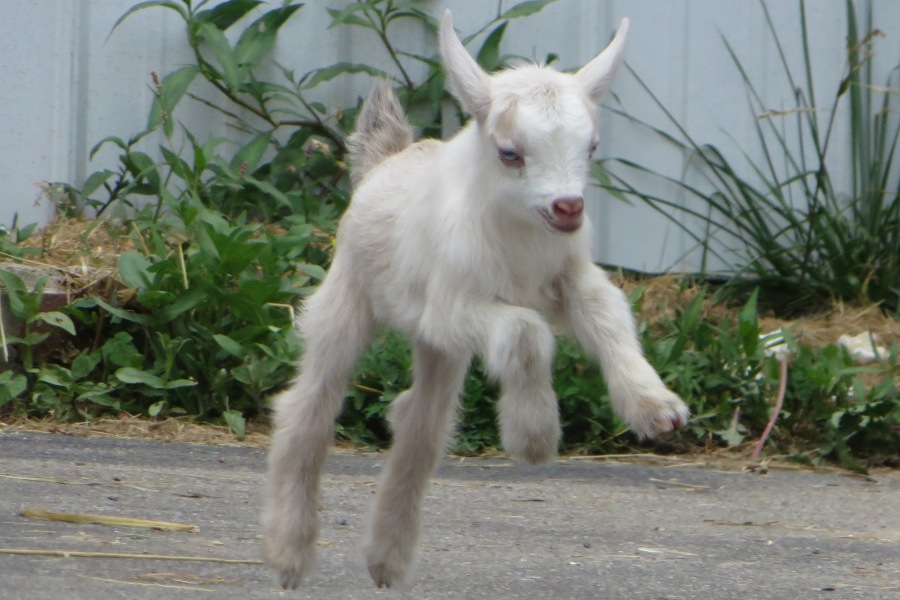 D and L Meadows CS Blanchette
Sire: D and L Meadows Charlie +*B,+*S
Sire: Sinai Thunder Nab Hosanna +*B,+*S
Sire: AOF Mardi's Nabucco *S
Sire: Lost Valley Mardi Gras *S
Sire: CH, MCH Hill Country's BB Zydeco
Dam: GCH, GCH Lost Valley KW Shiraz 2*M AR,3*D
Dam: ARMCH Antiquity Oaks Carmen 1*M AR,1*D AR
Sire: Antiquity Oaks John Adams
Dam: Dream Acres Flash Dancer
Dam: CapraKoza AG CousCous 1*M AR,1*D AR +V+V FS84
Sire: Olson Acres RC Augustine +*B,+*S
Sire: Lost Valley KW Raising Cain ++B,*S
Dam: GCH, MCH Olson Acres Monica 1*M,1*D
Dam: Little Tots Estate Juncus
Sire: PromisedLand CP Zippo *S
Dam: Brush Creek Faithful 1*M AVE+ FS83
Dam: Sinai Thunder C Gold and Myrrh 3*M AR,3*D AR
Sire: Muddy Creek BC Caribou +B,+S +EV FS85
Sire: Rosasharn UP Bronze Copper *B,*S +EV FS85
Sire: Rosasharn CH Uproar ++*B VEE FS87
Dam: SG Rosasharn's TL Mariposa 3*M AR,4*D AR EEE+ FS88
Dam: Kids Corral PT GingerbreadGirl
Sire: Kids Corral Pat's Tenor
Dam: Doe-Sy-Doe's Ginger
Dam: Helmstead Minis TM Fergie 2*M AR,2*D AR VEV+ FS87
Sire: Thunderhill A Merlot
Sire: Meadow Blue Farm Ace
Dam: Anbonjo HRL Painted Daisy
Dam: Little Tot's Estate Kirby 1*M,1*D
Sire: GCH Buttin'Heads Red Branch Legend +*B,*S
Dam: Little Tot's Estate Platycodon
Dam: D and L Meadows Smarty 2*M AR,1*D AR
Sire: Hoosier Heart S Montgomery +B
Sire: Little Tot's Estate Stewartia
Sire: GCH Little Tot's Estate Tsuga ++*B VVE FS88
Sire: Creek Road Envoy +B
Dam: Woodhaven Farms Cowgirl 1*M ++E+ FS83
Dam: Little Tot's Estate Lysimachia
Sire:
Dam
Dam: Piddlin Acres Misty Blue
Sire: Piddlin Acres Blue Thunder ++*S
Sire: MCH Gladys Porter Zoo Ali's Tex +S
Dam: Woodhaven Farms Moon Dancer 1*D
Dam: Piddlin Acres Tic Tac Doe
Sire: MCH Gladys Porter Zoo Ali's Tex +S
Dam: Willow Creek Tin Lizzie
Dam: Wood Bridge Farm Sprinkles 1*M
Sire: Gay-Mor Looney's Moody Blues *S
Sire: Gay-Mor's T Blue Looneytoon's ++*S
Sire: Piddlin Acres Blue Thunder ++*S
Dam: Piddlin Acres Alley Oops 1*D AR
Dam: Woodhaven Farm Blu Laurenbacal 2*D
Sire: Woodhaven Farms Bugatti
Dam: Munchranch East Nellie Backata 1*D AR
Dam: Buttin'Heads Zip Your Lip
Sire: Twin Creeks BW Zip Drive *S FS86.8
Sire: MCH Twin Creeks BH Bay Watch ++B,++*S FS84.8
Dam: Goodwood Zippy Mariri 3*D
Dam: Buttin'Heads Apologia
Sire: Buttin'Heads Polska Kielbasea +*S
Dam: ARMCH Buttin'Heads Camisole 2*D AR
DHI 2017-2018
Date
Days In Milk
Lbs Milk
Fat %
Protein %
Somatic Cell Count
x 1000
4/29/2017
22
2.4
5.3
4.3
38
5/31/2017
54
1.8
5.8
4.1
81
6/28/2017
82
2.0
6.5
4.1
50
7/22/2017
106
2.0
6.1
4.4
174
9/15/2017
161
1.5
6.8
4.8
57
10/26/2017
197
1.8
6.2
4.6
44
11/22/2017
229
1.8
6.1
4.9
93
12/15/2017
252
1.3
7.8
5.2
400
01/27/2018
295
1.6
7.4
4.9
66
Total Milk
524.0 Lbs
Fat
33.0 Lbs
Protein
24.0 Lbs
DHI 2018-2019
Date
Days In Milk
Lbs Milk
Fat %
Protein %
Somatic Cell Count
x 1000
6/8/2018
10
2.6
7.2
4.2
123
7/7/2018
39
3.2
6.7
3.6
162
8/17/2018
80
2.8
6.2
4.1
246
9/25/2018
119
2.7
9.3
3.9
606
11/3/2018
158
2.7
7.1
4.6
200
12/7/2018
192
2.3
7.1
4.7
100
01/04/2019
220
2.1
7.2
4.9
283
02/01/2019
248
1.8
8.5
4.9
174
03/01/2019
276
1.4
6.4
5.1
348
4/3/2019
309
1.9
8.5
4.9
325
5/10/2019
346
2.0
8.7
4.6
214
6/7/2019
374
1.8
9.9
4.6
325
Total Milk
871.0 Lbs
Fat
65.0 Lbs
Protein
38.0 Lbs
Last update: Saturday, June 22, 2019