Star of Wonder

Star of Wonder (aka Wonder) is in her fourth freshening. She obtained her AR star in 2014-2015 season with both ADGA and AGS.
Her dam was on the 9th place for protein production in 2015 with AGS.
Wonder placed 6th for volume in with 1,138 in 305 days with AGS in 2016-2017. She placed 9th for butterfat and 7th for protein.
During her second lactation, she gave over 1000 lbs of milk.
DOB: 12/12/2012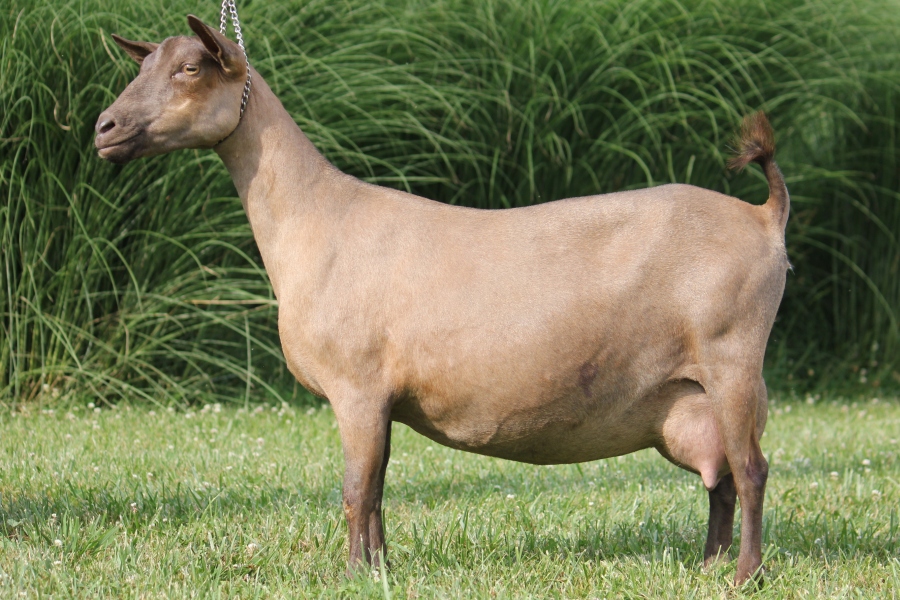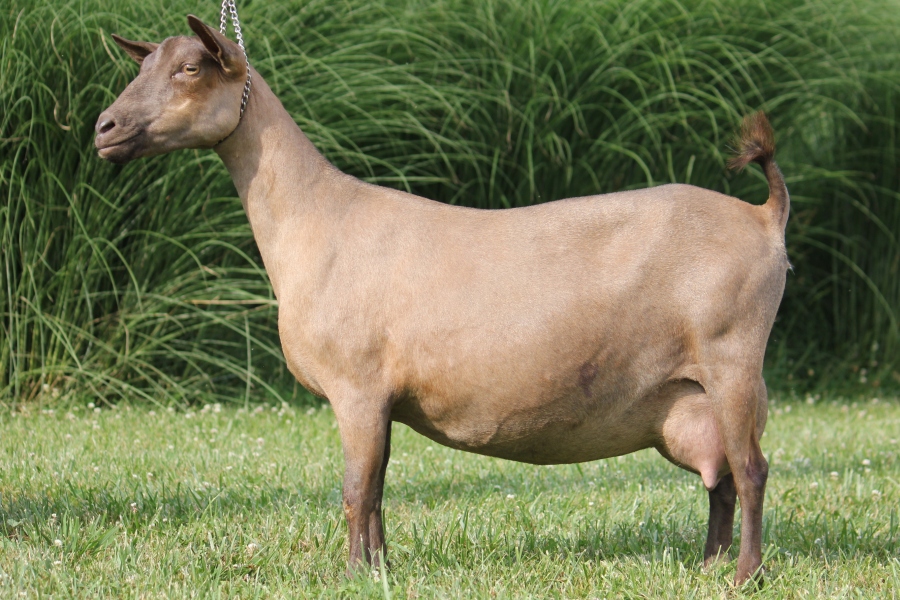 Sinai Thunder C Star of Wonder 2*M AR,2*D AR +A+A FS80
Sire: Muddy Creek BC Caribou +B,+S +EV FS85
Sire: Rosasharn UP Bronze Copper *B,*S +EV FS85
Sire: Rosasharn CH Uproar ++*B VEE FS87
Sire: Rosasharn UR Honey Nut Cheerio *S
Sire: Rosasharn's TL Unregrettable +*S
Dam: SG, ARMCH Rosasharn's Buckwheat Honey 3*M AR,3*D AR EEEE FS91
Dam: SG, ARMCH Rosasharn's Uni 2*M AR,3*D AR EEEV FS90
Sire: ARMCH Goodwood Tom Thumb ++B,+*S FS88.6
Dam: Rosasharn's Baby Usa 2*M,2*D AR
Dam: SG Rosasharn's TL Mariposa 3*M AR,4*D AR EEE+ FS88
Sire: ARMCH Rosasharn's Tiger L ++B,++*S +AE FS82
Sire: Stonewall's Apocalypse Now +*S
Dam: ARMCH Goodwood Water Lilly 1*M,2*D AR
Dam: SG, ARMCH Rosasharn's Guadalupe Moteada 2*M AR,3*D AR VEEV FS90
Sire: ARMCH Goodwood Tom Thumb ++B,+*S FS88.6
Dam: Stonewall's Baby 'Uddercup 1*M,2*D AR
Dam: Kids Corral PT GingerbreadGirl
Sire: Kids Corral Pat's Tenor
Sire: Flat Rocks Crescendo
Sire: Ponders End FO Minstrel Show
Dam: Flat Rocks Gazelle
Dam: Doe-Sy-Doe's Patches 8*D
Sire: ARMCH Rosasharn's Tiger L ++B,++*S +AE FS82
Dam: Doe-Sy-Doe's LIl Angel 7*D
Dam: Doe-Sy-Doe's Ginger
Sire: ARMCH Rosasharn's Tiger L ++B,++*S +AE FS82
Sire: Stonewall's Apocalypse Now +*S
Dam: ARMCH Goodwood Water Lilly 1*M,2*D AR
Dam: Doe-Sy-Doe's LIl Angel 7*D
Sire: MCH OTR Magic's M Heracles +S
Dam: Stonewall's L'il Honeysuckle 6*D
Dam: Little Tots Estate ST Kowkab 1*M AR,1*D AR +VVV FS86
Sire: Rosasharn HR Chewbacca *B,*S
Sire: Rosasharn TF Honey Bear *S +VE FS85
Sire: Rosasharn's Tom F'u' lery *S
Sire: ARMCH Goodwood Tom Thumb ++B,+*S FS88.6
Dam: Rosasharn's Baby Usa 2*M,2*D AR
Dam: SG, ARMCH Rosasharn's Buckwheat Honey 3*M AR,3*D AR EEEE FS91
Sire: MCH OTR Magic's M Heracles +S
Dam: SG, ARMCH Rosasharn's Eclipse 3*M AR,3*D AR EEEV FS91
Dam: RGCH Rosasharn's TL Arwen 2*M AR,8*D AR VEEE FS90
Sire: ARMCH Rosasharn's Tiger L ++B,++*S +AE FS82
Sire: Stonewall's Apocalypse Now +*S
Dam: ARMCH Goodwood Water Lilly 1*M,2*D AR
Dam: Rosasharn's Elfin 1*M AR,7*D AR
Sire: ARMCH Goodwood Tom Thumb ++B,+*S FS88.6
Dam: Stonewall's Alias Grace 6*D
Dam: Little Tots Estate Foeniculum
Sire: GCH Little Tot's Estate Tsuga ++*B VVE FS88
Sire: Creek Road Envoy +B
Sire: Willow Creek Instant Replay +S
Dam: Twin Creeks LS Pixie Fern
Dam: Woodhaven Farms Cowgirl 1*M ++E+ FS83
Sire: Woodhaven Farms Texas Twister
Dam: Flat Rocks Opal 2*D
Dam: CH Son Rise Ranch Hypericum
Sire: GCH Little Tot's Estate Tsuga ++*B VVE FS88
Sire: Creek Road Envoy +B
Dam: Woodhaven Farms Cowgirl 1*M ++E+ FS83
Dam: Kaapio Acre's RM Space Cadet
Sire: Kaapio Acre's RA Rocket Man EEE FS91
Dam: Gay-Mor's LT Blue Mariah Carey 2*D
DHI 2015-2016
Date
Days In Milk
Lbs Milk
Fat %
Protein %
Somatic Cell Count
x 1000
9/12/2015
26
4.8
5.6
3.4
115
10/24/2015
68
4.2
5.6
4.1
47
11/28/2015
104
4.1
4.9
4.1
81
12/26/2015
132
3.3
6.6
4.2
152
1/29/2016
166
3.1
5.5
4.4
162
3/12/2016
209
2.9
6.5
4.3
264
4/20/2016
248
2.6
7.4
4.6
93
5/21/2016
279
2.5
7.1
4.5
373
6/27/2016
316
2.7
6.6
4.1
325
Total Milk
1073.0 Lbs
Fat
67.0 Lbs
Protein
45.0 Lbs
DHI 2017-2018
Date
Days In Milk
Lbs Milk
Fat %
Protein %
Somatic Cell Count
x 1000
3/17/2017
20
4.8
6.7
3.9
162
4/29/2017
63
4.4
7.0
3.5
200
5/31/2017
95
4.7
5.9
3.8
606
6/28/2017
123
3.8
5.9
3.9
492
7/22/2017
147
3.9
5.3
4.0
1493
9/15/2017
202
2.6
7.2
4.6
264
10/26/2017
238
3.8
5.5
4.1
400
11/22/2017
270
2.8
6.0
4.6
373
12/15/2017
293
2.8
5.8
4.2
746
Total Milk
1105.0 Lbs
Fat
69.0 Lbs
Protein
46.0 Lbs
DHI 2018-2019
Date
Days In Milk
Lbs Milk
Fat %
Protein %
Somatic Cell Count
x 1000
5/12/2018
30
5.2
5.0
3.6
162
Total Milk
136.0 Lbs
Fat
7.0 Lbs
Protein
6.0 Lbs
Last update: Tuesday, June 19, 2018