Tehillah

Tehillah obtained her milking star with the one day milking test with ADGA and AGS. Since her dam is a 3*M star goat, she is now a 4*M star goat.
Tehillah is an AR star doe with ADGA and AGS.
With the ADGA, Tehlliah's dam was number 9 for the AR 305 days for protein production with the ADGA.
Tehillah's dam Little Tots Estate Allamanda *D was the fourth top milker for the one day test with the AGS. See page 8 of the AGS Top ten booklet for 2012 PDF document.
In 2013, Tehillah 's dam was the number 8 for the AR 305 days for milk volume (1079 lbs) and number 9 for butter fat and number 4 for protein with AGS.
DOB: 10/26/2012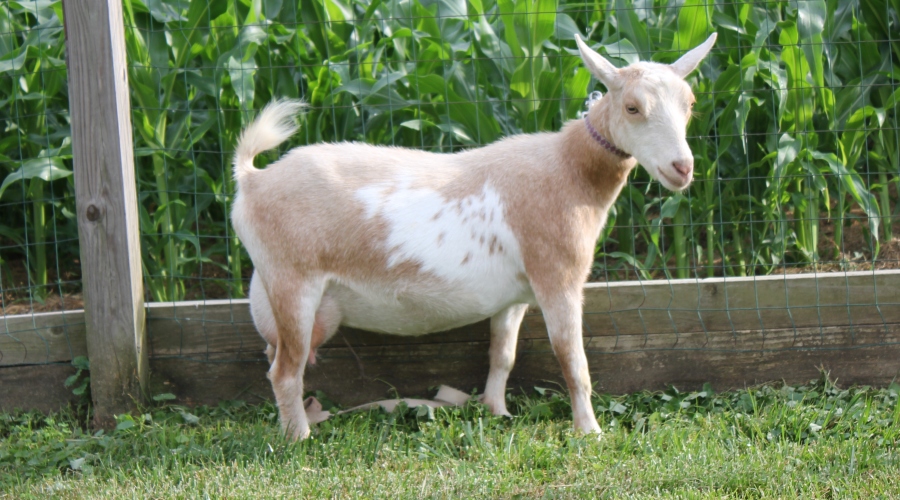 Sinai Thunder AG Tehillah 4*M AR,2*D AR
Sire: Olson Acres RC Augustine +*B,+*S
Sire: Lost Valley KW Raising Cain ++B,*S
Sire: Gay-Mor's RA Kingwood ++*S
Sire: Stonewall's Raising Arizona ++S
Sire: Stonewall's Longstreet
Dam: Goodwood Penny Lane 5*D
Dam: ARMCH Goodwood Trillium 1*D AR
Sire: Goodwood Kauri Tree ++*S
Dam: Goodwood Killeen
Dam: ARMCH Lost Valley BDC Serabi 3*M AR,4*D AR
Sire: Twin Creeks BW Browndirtcowboy *S
Sire: MCH Twin Creeks BH Bay Watch ++B,++*S FS84.8
Dam: GCH, MCH Gay-Mor's JJU Nonpareil 1*M,4*D EEEE FS92
Dam: Lost Valley LA Toriaza 2*M,3*D
Sire: Gay-Mor's JJU Laredo
Dam: Hill Country's Shatarr 1*M,2*D
Dam: GCH, MCH Olson Acres Monica 1*M,1*D
Sire: Irish Whisper Tom Cruz
Sire: Piddlin Acres Suzuki Sidekick +*S
Sire: Twin Creeks BW Peaceful Voyage ++*S
Dam: Far-N-Best Suzuki 1*D
Dam: MK Elpaal VAS
Sire: Velvet Acres Chitty's Scandal
Dam: MK Eladah DC
Dam: Whispering Woods Vera Miles
Sire: CH 4 Fun Gay-Mor Lemon Pot-O-Gold *S VVE FS87
Sire: 4 Fun Val's Twist of Lemon *S
Dam: ARMCH Gay-Mor's Magic Naiad 5*D
Dam: SG Gay-Mor's Blue Looney Meg Ryan EEEE FS91
Sire: Gay-Mor's T Blue Looneytoons ++*S
Dam: Munchranch East Nellie Backata 1*D AR
Dam: SG Little Tots Estate Allamanda 3*M AR,1*D AR VEVE FS90
Sire: Caesar's Villa LV Eric +B,*S FS87.4
Sire: Caesar's Villa Felicia's Levi *S
Sire: ARMCH Caesar's Villa CBS Stetson +B,+*S FS86.3
Sire: Stonewall's Midnight Cowboy ++S
Dam: Goodwood Mindy 1*D
Dam: Inavale Felicia 1*D
Sire: MCH Inavale RW Winchester
Dam: Joysprings Fantasia
Dam: Caesar's Villa Pons Ebony 7*D
Sire: Caesar's Villa CBS Poncho *S
Sire: Stonewall's Midnight Cowboy ++S
Dam: Mtn Retreat's Glow Bug 2*D
Dam: Stonewall's Golden Cowgirl 6*D AR
Sire: Stonewall's Jumping Jack Flash
Dam: Goodwood Tinkerbelle 5*D
Dam: SGCH SM3Pines Juren's Sugar Glider 2*D VEEE FS90
Sire: Creek Road Envoy +B
Sire: Willow Creek Instant Replay +S
Sire: Willow Creek Treason
Dam: Goodwood Milkweed 1*D
Dam: Twin Creeks LS Pixie Fern
Sire: HBF Luckey Strike +S
Dam: MCH Raha Acres Twink's Pixie 1*D
Dam: ARMCH Gay-Mor Berry's Jurassic 1*M,2*D AR
Sire: Goodwood Lingonberry ++*S
Sire: Goodwood Lotto Money +*S
Dam: MCH Goodwood Tahoka 3*D
Dam: ARMCH Unicorn Farm Parnell's Panda 1*D AR
Sire: ARMCH Unicorn Farm Tomus Parnell +*S
Dam: Unicorn Farm Nenik Panda
DHI 2014-2015
| Date | Days In Milk | Lbs Milk | Fat % | Protein % |
| --- | --- | --- | --- | --- |
| 3/8/2014 | 25 | 2.7 | 7.5 | 4.4 |
| 4/19/2014 | 67 | 3.3 | 6.2 | 4.2 |
| 5/10/2014 | 88 | 3.3 | 8.0 | 4.0 |
| 6/4/2014 | 113 | 2.4 | 6.8 | 4.3 |
| 7/9/2014 | 148 | 2.3 | 7.4 | 4.4 |
| 8/2/2014 | 172 | 2.4 | 7.8 | 4.7 |
| 9/6/2014 | 207 | 2.6 | 8.0 | 4.7 |
| 10/11/2014 | 242 | 2.5 | 9.2 | 5.2 |
| 11/13/2014 | 275 | 2.0 | 8.8 | 5.2 |
| 12/13/2014 | 305 | 1.7 | 9.9 | 5.5 |
| Total Milk | 769 Lbs | Fat | 61 Lbs | |
DHI 2015-2016
Date
Days In Milk
Lbs Milk
Fat %
Protein %
Somatic Cell Count
x1000
4/2/2015
13
3.4
9.4
4.5
31
5/1/2015
42
4.8
7.0
4.1
38
6/6/2015
78
4.0
8.4
4.2
62
7/11/2015
113
3.8
7.5
4.4
54
8/15/2015
148
3.8
6.8
4.5
100
9/12/2015
176
2.6
8.1
5.1
174
10/24/2015
218
2.3
9.8
5.5
13
11/28/2015
253
2.2
8.8
5.1
33
12/26/2015
281
2.4
8.8
4.8
100
1/29/2016
315
1.9
8.3
5.3
35
Total Milk
995 Lbs
Fat
82 Lbs
Protein
46 lbs
Last update: Saturday, December 22, 2018