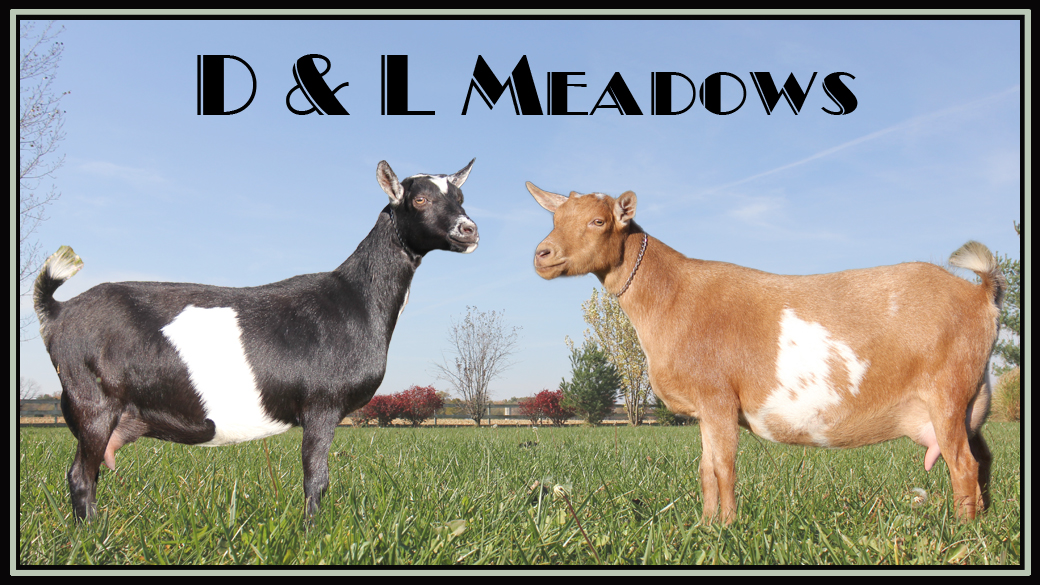 D and L Meadows Moose 1*M AR, 1*D AR
| | | |
| --- | --- | --- |
| DOB: 03/07/2011 | Twin | Height: |
Sire: Hoosier Heart S Montgomery +B
Dam: Crossplain's Rosie

Milk Test High 5.1#
305 Day: 1022#

2013 AGS National Top 10 1 Day Test Award: #9 for Volume with 4.3#
2014 AGS National Top 10 1 Day Test Awards: #9 for High Score with 64.26, #5 for Volume with 5.1#
Moose is our oldest doe still in milk. Her name, well, may need a bit of explaining... She was one of twins, and she was much bigger than her brother at birth. Her name was going to be "Lucy", but when we saw her and her brother side by side, someone exclaimed, "She's a moose compared to her brother!" It stuck. We named her brother, don't laugh.. yep, Peanut.
We were thrilled when Moose brought us to fame in 2013 with the one day milk test. That day she milked #5.1. When the AGS top ten records came out, she placed 9th for volume with the one day milk test. She went on to be our first doe to milk over #1000. She was also our first doe to have a one day milk test star and her AR star with both AGS and ADGA.
When her third freshening rolled around, we were hoping for a doeling. In the past, Moose has only kidding bucklings. This time the sire was our newer buck, Valentine, who's dam has such a amazing record. But she, true to her style, twin bucklings. We were beginning to think there would be no doelings, when with her fourth freshening, she kidding two bucklings and yes, finally, two doelings! Rosemary had twin bucklings her first freshening. She milked 616 as a first frehener. We had high hopes for her second freshening, when she tragically passed from a brain anarizm two months before she was due. Report from autopsy, perfectly healthy, pregenant with quad bucklings. In 2016, Moose surprised us with a single doeling, Schwanli, who is doing well as a FF this year.
Today, though Moose is getting up in years and no longer produces as much milk, she continues to hold the legacy of our first doe to bring our name on the Top Ten records. We are planning to keep another doeling from her next freshening, (if she has one) to again carry on her legacy, in milk, not bucklings.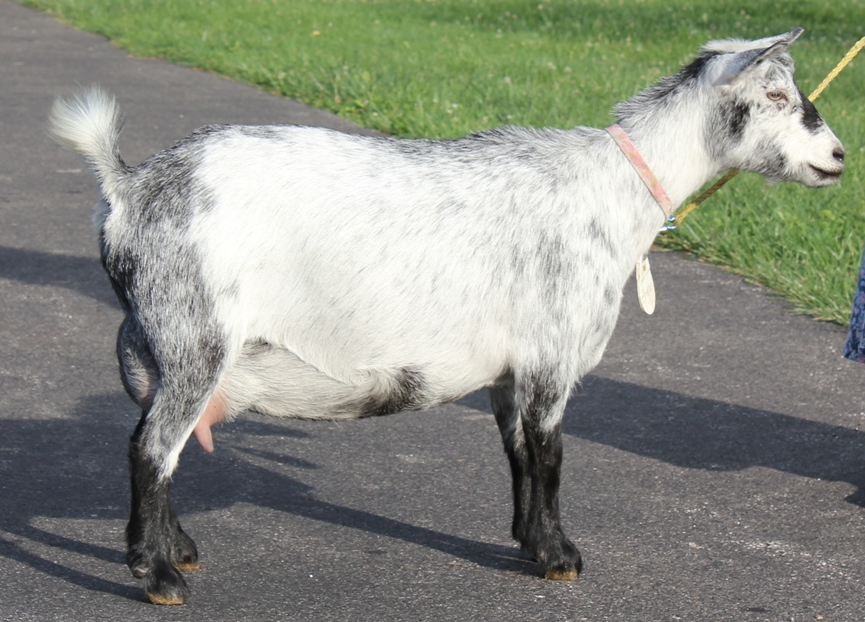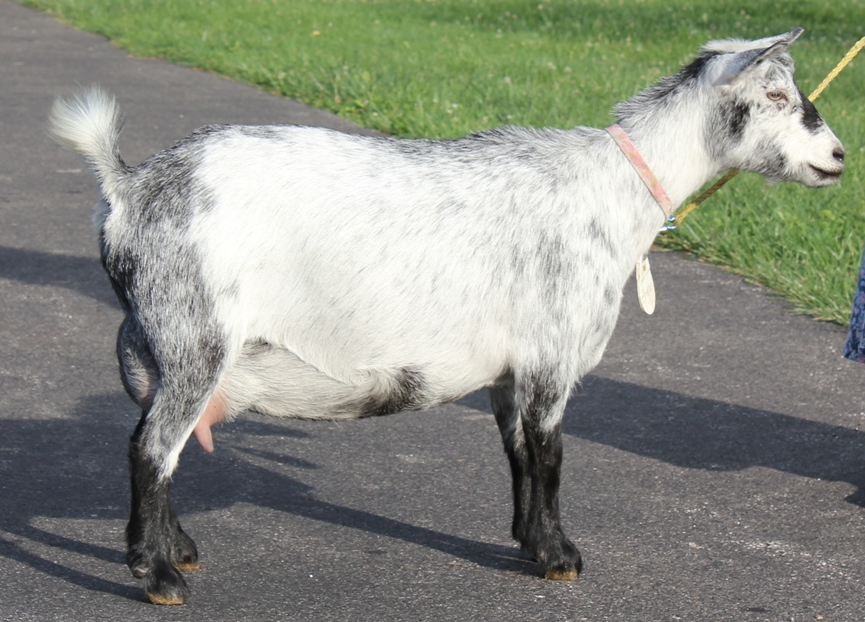 Back to top
D and L Meadows Moose 1*M AR, 1*D AR
Sire: Hoosier Heart S Montgomery +B
Sire: Little Tot's Estate Stewartia
Sire: GCH Little Tot's Estate Tsuga ++*B VVE FS88
Sire: Creek Road Envoy +B
Sire: Willow Creek Instant Replay +S
Dam: Twin Creeks LS Pixie Fern
Dam: Woodhaven Farms Cowgirl 1*M ++E+83
Sire: Woodhaven Farms Texas Twister
Dam: Flat Rocks Opal 2*D
Dam: Little Tot's Estate Lysimachia
Sire:
Sire:
Dam:
Dam
Sire:
Dam:
Dam: Piddlin Acres Misty Blue
Sire: Piddlin Acres Blue Thunder ++*S
Sire: MCH Gladys Porter Zoo Ali's Tex +S
Sire:
Dam
Dam: Woodhaven Farms Moon Dancer 1*D
Dam: McSurry Farm Emy Mc
Dam: Steele Ballew Xena
Dam: Piddlin Acres Tic Tac Doe
Sire: MCH Gladys Porter Zoo Ali's Tex +S
Sire:
Dam
Dam: Willow Creek Tin Lizzie
Sire:
Dam
Dam: Crossplain's Rosie
Sire: Double E Ranch Ezrah
Sire: Hoosier Heart Mini Me
Sire:
Sire:
Dam:
Dam
Sire:
Dam:
Dam: Gitana Winged Heart
Sire: Hoosier Heart Willie
Sire:
Dam
Dam: Hoosier Heart Leanne
Sire:
Dam
Dam: Cornerstone Farm Noel
Sire: Cornerstone Farm Zion
Sire: Piddlin Acres Thunders Mozart
Sire: Piddlin Acres Blue Thunder ++*S
Dam
Dam: Bean's Pod Malimar Cookie
Sire: ARMCH Hayseed Farm's King Alfred +S
Dam: Bean Pod Gay-More Raggae's Oreo
Dam: Cornerstone Farm Meraiah 2*D
Sire: CornerStone Farm Lazarus
Sire:
Dam
Dam: CornerStone Farm Shekinah Glory 1*D
Sire:
Dam
Back to top
305 DHI Totals
Milk Volume
305 days
Fat
Protein
2013-2014
562 lbs
40 lbs
25 lbs
2014-2015
1022 lbs
72 lbs
44 lbs
2015-2016
953 lbs
67 lbs
41 lbs
2016-2017
801 lbs
65 lbs
34 lbs
2017-2018
909 lbs
64 lbs
38 lbs
2018-2019
672 lbs
54 lbs
29 lbs
2020-2021
298 lbs (in 114 days)
20 lbs
11 lbs
Back to top
DHI Records
DHI 2013-2014
Date
Days In Milk
Lbs Milk
Fat %
Protein %
Somatic Cell Count
x 1000
9/6/2013
31
4.3
5.2
4.0
71
10/5/2013
60
3.0
6.8
4.2
15
11/9/2013
97
2.9
8.8
5.0
33
12/14/2013
130
2.5
8.6
4.7
13
1/11/2014
158
2.7
7.3
4.1
23
Total Milk
495.0 Lbs
Fat
35.0 Lbs
Protein
22.0 Lbs
DHI 2014-2015
Date
Days In Milk
Lbs Milk
Fat %
Protein %
Somatic Cell Count
x 1000
4/19/2014
26
4.8
6.1
4.0
29
5/10/2014
47
5.1
5.9
3.9
13
6/4/2014
72
4.5
5.4
3.9
54
7/9/2014
104
3.8
6.0
4.0
13
8/2/2014
128
3.1
6.8
4.3
41
9/6/2014
163
3.2
7.2
4.3
38
10/11/2014
201
1.7
9.9
5.2
33
11/13/2014
234
3.0
8.0
4.8
100
12/13/2014
264
2.4
9.9
5.0
100
1/2/2015
284
2.8
8.3
4.6
19
1/24/2015
306
2.4
8.4
4.3
13
3/2/2015
343
1.0
9.9
5.4
38
Total Milk
1087.0 Lbs
Fat
78.0 Lbs
Protein
48.0 Lbs
DHI 2015-2016
Date
Days In Milk
Lbs Milk
Fat %
Protein %
Somatic Cell Count
x 1000
6/6/2015
30
4.9
5.4
3.7
35
7/11/2015
65
3.7
6.0
3.7
41
8/15/2015
100
3.6
5.9
4.0
13
9/12/2015
128
2.8
7.2
4.1
115
10/24/2015
170
2.6
9.6
5.1
13
11/28/2015
205
2.7
8.0
4.7
44
12/26/2015
233
2.7
8.2
4.4
66
1/29/2016
267
2.5
8.0
4.5
132
3/12/2016
310
1.9
7.2
4.5
100
Total Milk
963.0 Lbs
Fat
67.0 Lbs
Protein
41.0 Lbs
DHI 2016-2017
Date
Days In Milk
Lbs Milk
Fat %
Protein %
Somatic Cell Count
x 1000
6/27/2016
26
3.3
6.6
3.7
38
7/23/2016
52
3.0
6.1
3.8
20
8/27/2016
87
3.0
7.3
3.7
44
9/30/2016
121
3.3
7.6
4.3
13
10/29/2016
150
3.0
7.7
4.5
38
11/25/2016
177
2.4
9.6
5.1
23
1/7/2017
220
2.2
9.8
4.7
29
2/18/2017
262
2.0
9.9
5.3
76
3/17/2017
289
1.8
9.7
5.1
34
4/29/2017
332
2.2
7.8
4.4
152
Total Milk
857.0 Lbs
Fat
69.0 Lbs
Protein
46.0 Lbs
DHI 2017-2018
Date
Days In Milk
Lbs Milk
Fat %
Protein %
Somatic Cell Count
x 1000
9/15/2017
22
4.0
6.1
4.0
123
10/26/2017
58
4.0
6.3
3.7
143
11/22/2017
90
4.0
7.1
4.0
283
12/15/2017
113
3.7
6.8
4.1
54
01/27/2018
156
3.1
6.7
4.3
283
3/3/2018
191
2.0
9.9
5.7
57
4/10/2018
229
1.9
8.6
4.9
76
5/12/2018
261
2.5
6.6
4.1
71
6/8/2018
288
2.0
6.9
4.0
325
7/7/2018
317
1.4
7.4
3.8
919
Total Milk
927.0 Lbs
Fat
66.0 Lbs
Protein
39.0 Lbs
DHI 2018-2019
Date
Days In Milk
Lbs Milk
Fat %
Protein %
Somatic Cell Count
x 1000
11/3/2018
42
4.2
7.7
3.9
325
12/7/2018
76
3.5
6.7
4.5
200
01/04/2019
104
3.5
7.4
4.5
273
02/01/2019
132
2.7
9.5
4.6
857
03/01/2019
160
2.1
6.5
4.7
246
4/3/2019
193
0.9
9.9
5.3
1056
5/10/2019
230
1.0
7.2
4.7
696
6/7/2019
258
0.7
8.4
4.5
1600
Total Milk
654.0 Lbs
Fat
52.0 Lbs
Protein
28.0 Lbs
DHI 2020-2021
Date
Days In Milk
Lbs Milk
Fat %
Protein %
Somatic Cell Count
x 1000
4/28/2020
22
2.7
6.4
3.8
17
5/21/2020
45
2.8
5.4
3.8
87
06/19/2020
74
2.7
7.2
3.8
214
07/29/2020
114
2.5
7.0
3.8
141
Total Milk
298.0 Lbs
Fat
20.0 Lbs
Protein
11.0 Lbs
Back to top
Last update: 10/17/2020